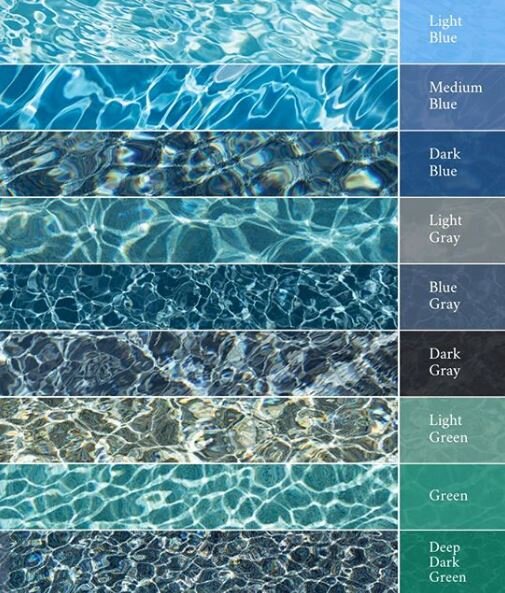 Swimming pool interior finishes have come a long way from a basic white plaster. You can now choose from a variety of different colors and textures.
Aggregate finishes not only have a better appearance, but they are more durable, and even help prevent staining and spotting.
It is important to know what water shade color and texture feeling you are looking to have. Aggregate can dramatically change the look of your pools water depending on what aggregate you choose. Not to mentation how much shade or sunlight your pool is exposed to. Different aggregates produce different water shades. Depth also comes into play. As seen in the picture below, you can see how dark the water shade gets when you look deeper into the pool's depths.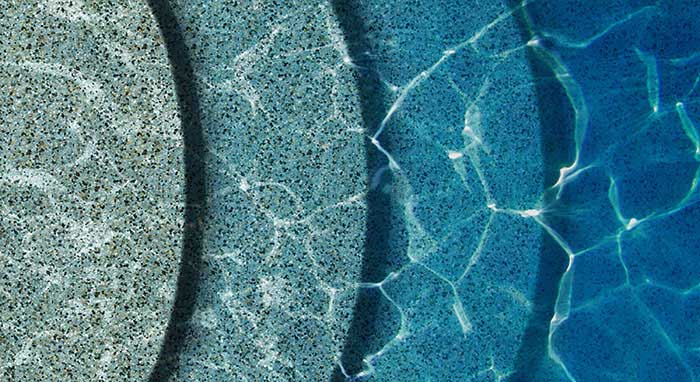 ---
Types Of Aggregate Plaster
Polished $$$$$ – With a smooth texture and durable strength, this polished plaster is sure to last! The process for applying a polished finish is a bit more challenging and time consuming. The price might be higher then other aggregates, but you are getting top of the line!
Glass Bead $$$$ – 100% glass bead, this aggregate is sure to pop! The plaster is smooth but textured at the same time. It's pretty therapeutic to the touch.
Pebble $$$ – The most textured of the aggregates, this finish also can have some glass bead in it as well. It comes in a verity of pebble sizes.
Quartz $$ – Probably the most common of the aggregate choices. Is is extremely smooth and durable.
White Plaster $ – White cement plaster is a mixture of cement, white sand, and marble dust. It can be jazzed up a bit with a colored dye. Though this type of plaster is the cheapest of all, it does not have as much longevity as the other aggregate choices.
---
If you are renovating your gunite swimming pool or even thinking of installing one, then you should really consider going with an aggregate plaster. The life, look, and overall feel is just superior to white plaster.